A CLOSEUP OF THE DIGITAL CONSOLE FROM THE 21" MONITOR IN MIXING ROOM: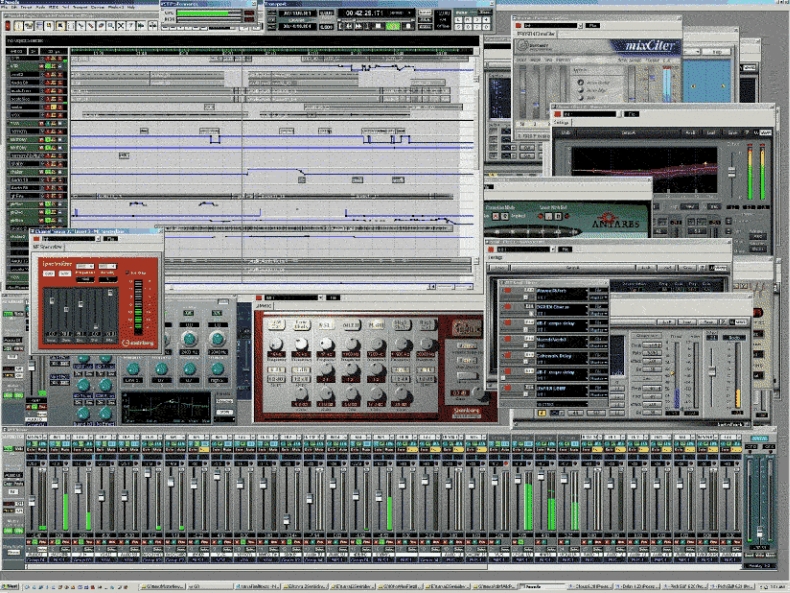 Musical instruments and instrument amplifiers: A beautiful sounding Yamaha Solid Top classical guitar, a stunning, one of a kind Larivee D10 steel string acoustic guitar, Fishman Rare Earth Active acoustic guitar pickup/condenser mic combo (if your guitar needs a pickup for a session), Yamaha Student Model Alto Sax, weighted 88 key keyboard with GIGASTUDIO AND THE VSL LIBRARIES, Stage 400B bass head with Gallien Krueger 15" cabinet and separate tweeter, custom neck through body electric bass with 3 EMG pickups, 100 watt 2x10 guitar amp with tube preamp and processor, Univox custom wired electric guitar with 3 humbuckers, GODIN XTSA electric guitar WITH RMC PICKUPS AND SYNTH OUTPUT, Ludwig Vistalite drum kit, Obelisk drum kit, one upright piano, access to several high end acoustic pianos.

Reference monitors and microphones: Fully Sound Treated Drum and Vocal Room with ADAM AUDIO REFERENCE MONITORS. Nice collection of 1" diaphragm condensers, a pair of RIBBON MICS, small diaphragm condensers with omni and cardioid capsules, many dynamic mics incl Audix D6 for kik drum, didg and djembe, 24 Onyx Mic Pres. "Bad reference" rooms: in the big living room, Pro Linear Stage 5 loudspeakers powered by a pre 1980 (read good) receiver. 2 Other Rooms with a standard computer multimedia system, portable stereos, a common, bassy consumer grade stereo.